iOS Dropped To 29 Percent Of US Smartphone Sales In The First Quarter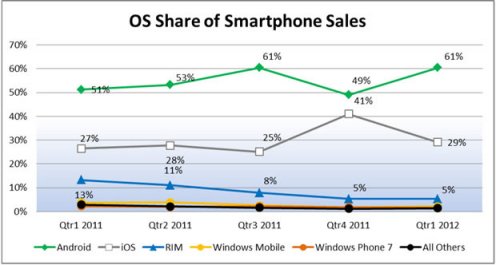 CNET reports that iOS U.S. market share dropped by 12 percent in the first quarter, which enable Google's Android to take almost two-thirds of the market.
According to market research company NPD Group, Android was able to capture 61 percent of the U.S. market, which is a considerable gain from the 49 percent registered in last year's fourth quarter.
It is assumed that Apple's holiday surge in sales was boosted by the iPhone 4S launch in October, but once the holidays ended Android eventually won back the same market share it had in the Q3 2011.
It should be noted that advertising research firm Neilsen analyzed market situation in March and pegged iOS at 32 percent and Android at 49,5 percent for Q1 2012.

Leave a comment, read comments [3]