iOS Users Generate Nearly 54% of North American Smartphone Web Traffic

Apple's iPhone is a very popular smartphone. In fact, it is so much popular that nearly half of the smartphone users own one.
According to the latest report from research firm Chitika Insights, iOS users generate 53.1% of North American web traffic. Android users come in the second place with 44.5%.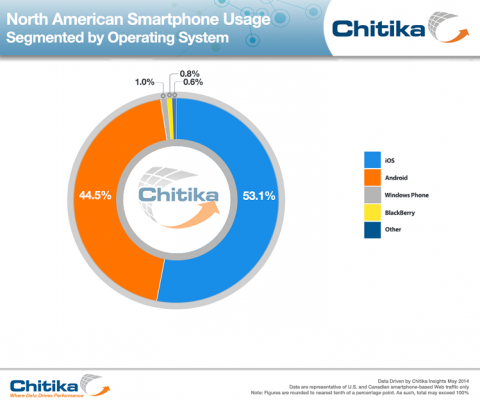 Take a look at what's written in the original report (via iClarified):
iOS users generate the majority of North American smartphone Web traffic at 53.1%, while Android follows with 44.5%. With several flagship devices upcoming from a number of the largest manufacturers, we expect to observe some subsequent usage share variations between the two operating systems over the next several months.
As to the third spot, it is occupied by Windows Phone. 1% of North American web traffic is generated by the users of this operating system.
What operating system do you use? Leave your answers below.

Leave a comment