iPad 2 May Get a Proximity Sensor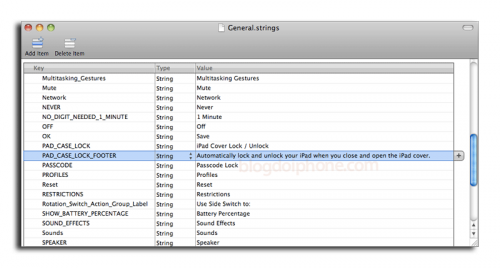 This week another blog about iPhones called blogdoiphone.com found a mention of a proximity sensor in the beta-version of iOS 4.3. Its developer build includes two strings entitled "PAD_CASE_LOCK_FOOTER" and "PAD_CASE_LOCK".
Both of them were found in the Settings application for the iPad. They allow user to enable or disable a new feature, which is described in description:

"Automatically lock and unlock your iPad when you close and open iPad cover".
So with this feature it becomes unnecessary to press the home or power button to lock and unlock device.
Currently available iPad has only an ambient light sensor. With a new proximity sensor the device will be able to automatically turn off the screen and to lock itself, and this is like iPhone does when is placed against a user's ear during a phone call.
With implementation of the proximity sensor it will be easier to remove physical buttons from the iPad, and lately we wrote about new rumors that suggested no home button will be in the next-gen Apple devices. But currently available iPad can be unlocked only by pressing the home button and then with the "slide to unlock" gesture. However, beta-version of iOS 4.3 also supports new multi-touch gestures that copy the functionality of home button.
To be able of using auto-lock and unlock features for the iPad user will need to have a cover for the device, but currently Apple doesn't ship it with its products (at least, for free).

Leave a comment