iPad and iPhone Application from Barack Obama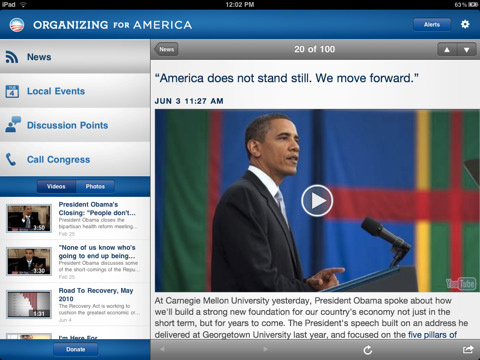 A new application for the iPad, iPod and iPhone from US President himself has just been released: Organizing for America.
This is an ambitious plan to connect to the voters in this year's election season and to reach out to those who were inspired by the elections in 2008. With the application you can always stay involved and up to date with the main political events no matter where you are. You can even find some local events and get in touch with OFA supporters in your area. With Organizing for America, you'll have immediate access to the latest news, photos and video.
Organizing for America features:
Up-to-the-Minute News: stay involved with the latest news about President Obama, the 2010 elections and OFA information. View national and local news separately and share them via Twitter, Facebook or e-mail.
Alerts: a special inbox will notify you about new AirMail messages from Organizing for America.
Find Events: Look for the events in your area, get directions and maps and then share the details with your friends via Twitter, Facebook or e-mail.
Discussion Points: Find the latest information on today's events and discuss them with your friends, neighbors, family and other voters.
Photos & Video: Look through images and video from OFA, such as photos from the main political events in the country and video messages from the President.
Call Congress: One of the best ways to make yourself heard is to call your member of Congress. Phone your representatives and report the results.
Donate: Help Organizing for America in the work they are engaged in.
Throughout the year more features will be available for download, including additional information on the forthcoming November elections.
Barack Obama | Organizing for America is available for download at the App Store for free.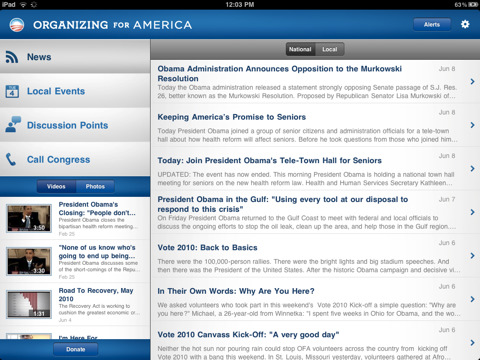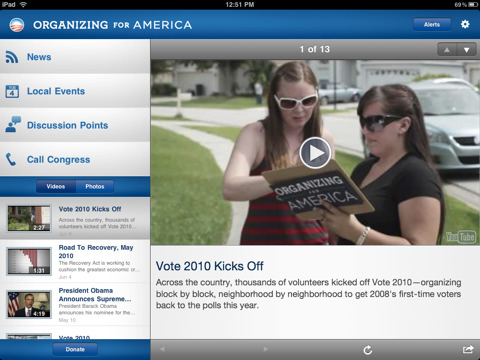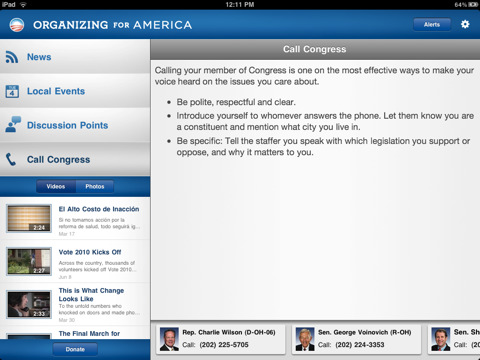 Leave a comment