iPad is Coming April 3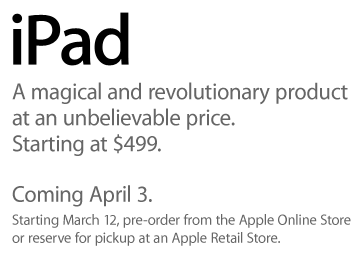 Apple announced today the date when iPad will go on sale in the USA - it is April 3rd. Models with 3G-module will be available in late April. Preorders for all iPad models will start on March 12th.
Apple today announced that its magical and revolutionary iPad will be available in the US on Saturday, April 3, for Wi-Fi models and in late April for Wi-Fi + 3G models. In addition, all models of iPad will be available in Australia, Canada, France, Germany, Italy, Japan, Spain, Switzerland and the UK in late April.

Beginning a week from today, on March 12, US customers can pre-order both Wi-Fi and Wi-Fi + 3G models from Apple's online store (www.apple.com) or reserve a Wi-Fi model to pick up on Saturday, April 3, at an Apple retail store.
Earlier we wrote that Apple is planning to expand their iBookstore service internationally. Well, in their press-release Apple noted that iBooks will be available for other countries "later this year".

Leave a comment