iPad mini With Retina Display Now Available for Personal Pickup in Several Apple Retail Stores

iPad mini with Retina display is now available for Personal Pickup in several stores across the USA, iDownLoadBlog reports. However, these are only Wi-Fi models that can be picked up from the store the same day you make an order.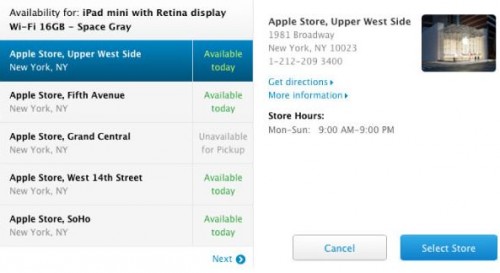 A number of Apple Stores across the US and other launch countries are now showing that Wi-Fi models of the new mini are available for Personal Pickup, meaning you could order the tablet and pick it up today.

Unfortunately, there doesn't seem to be any kind of pattern to Apple's rollout of in-store mini supplies. We've seen stores in New York, North and South Carolina, California, and everywhere in between showing that new iPad minis are available. And we've seen several that aren't.
The Retina iPad mini launch is a very strange one. Usually, the company from Cupertino announces the official release date in advance and makes the devices available in all stores simultaneously. Not this time, though. The reasons for such an atypical launch are supply constraints.

Leave a comment