iPads don't make you as attractive to the opposite sex as you think

If you want to look cool to the opposite sex becasue of your gadgets, you should first buy an iPhone, than a cool MacBook, than a regular book. And only after that you can consider buying an iPad. This is becasue according to the Retrevo Gadgetology study using an iPad is lower on the list of things men and women find attractive than even reading a book.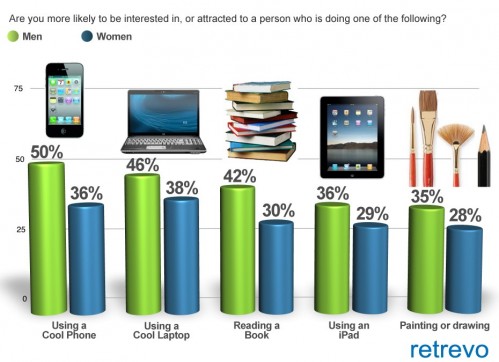 We're not sure why this is so, perhaps there is an element of resentment toward iPad owners among those unfortunate to be iPad-deprived. 50% of men under 35 say they find people with cool phones more interesting, 46% say they are more interested in people with cool laptops. Women under 35 on the other hand, are less impressed by people's gadgets. Only 36% saying they find cool cell phones impressive while 38% of the same group of women like people with cool laptops more.
An iPad is lower on the standard "I find you attractive" scale than seeing them with regular books. Only 36 percent of men are attracted to a woman because of her iPad, versus 42 percent liking a woman reading a book. As for the women, 29 percent like a man with an iPad, and 30 percent prefer book readers.
Seems that traditional books really won't be going anywhere, even with all the popularity of the iPad.

Leave a comment