iPhone 5C to make Apple the market leader in China

According to Katy Huberty, analyst from Morgan Stanley, Apple may become market leader on Chinese smartphone market thanks to iPhone 5C launch.
The report of the analyst is based on recent AlphaWise survey among 2,000 Chinese mobile phone owners.
Have a look at the findings:
Consumers' interest rate in iPhone will remain high is Cupertino company continues its high-end strategy
● 23% of potential smartphone buyers are ready to purchase the iPhone. The figure has risen from 19% in January 2013.
● Apple gets a higher brand-loyalty rate than any other smartphone producer.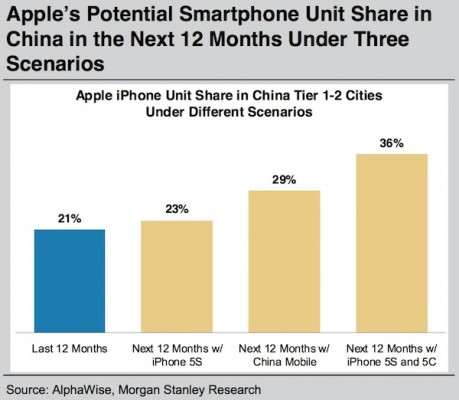 iPhone 5C will be a sales-booster
● Chinese consumers are ready to pay US$486 for the low-cost iPhone. It is 22% higher than the price suggested by Apple.
● On the other hand, customers are expecting Samsung S4 Mini and HTC One Mini to be cost less that the official price.
A partnership with China Mobile will enable Apple to increase its share on Chinese smartphone market
● 29% of potential smartphone buyers are ready to buy iPhone on condition is it compatible with China Mobile's 3G and 4G networks.
To sum up, the iPhone 5C may help Apple to enlarge its market share in China by 13.3%, whereas Samsung's will diminish by 6.7%. The long-awaited deal with China Mobile may attract even more customers, so the market share is likely to raise by another 4.6%. This will make Apple the market leader.
To get more information have a look at the charts below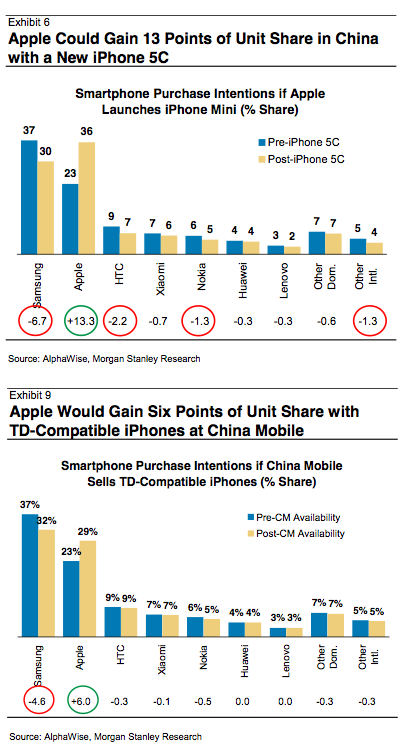 Leave a comment