iPhone 5s is Available in U.S. Retail Stores - Gene Munster

Gene Munster of Piper Jaffray has issued a new report, claiming that Apple's iPhone 5s is currently available in all of the retail stores across the USA. The analyst's figures are based on data from 60 locations in different cities. According to what Munster writes, all models, either carrier-locked or unlocked and SIM-free, can be purchased right now.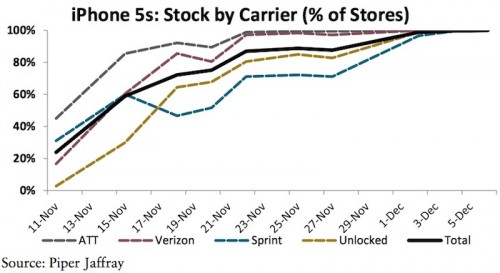 However, the data published by MacRumors differs a bit from Munster's report. Take a look:
Based on our own check of 120 stores, supplies are just slightly short of 100%, as we were able to find several locations lacking stock of a few combinations. The most frequently out of stock models were T-Mobile devices, which still posted 98.6% availability according to our survey.
iPhone 5s was released this fall, however, due to the problems with its Asian partners on the one hand and extremely high demand for the device on the other, the Company from Cupertino encountered supply constraints. But now everything is finally OK.

Leave a comment