China Mobile to Start Accepting Pre-Orders for Apple's iPhone 5s and 5c on Thursday

According to the latest rumors, world's largest carrier - China Mobile - will start accepting pre-orders for Apple's iPhone 5s and 5c as soon as this Thursday. As to the date of the official launch, it is set for late December. At least this is what AppleInsider reports.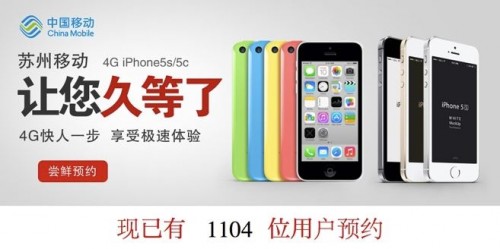 An unnamed representative for China Mobile confirmed to The Wall Street Journal on Monday that the carrier will begin taking preorders from customers later this week. It's expected that the iPhone will officially launch on China Mobile Dec. 18.

The carrier began taking preorders for smartphones with 4G LTE high-speed connectivity on Monday. Though the iPhone 5s was originally shown on the company's site, users could only preorder devices from companies like Samsung and Lenovo.
Last week China Mobile denied that the deal with the company from Cupertino had been signed. Instead, the carrier representative claimed the talks were still in progress. So whom to believe?

Leave a comment