iPhone 5s May Increase Apple's Gross Margins up to 40% in the Coming Quarters

iPhone 5s is a very successful device in both U.S. and international markets. In fact, it is so much popular among the customers that can possibly help the company from Cupertino boost the gross margins to incredible 40%. Well, this is at least what Maynard Um of Wells Fargo Securities predicts (via AppleInsider).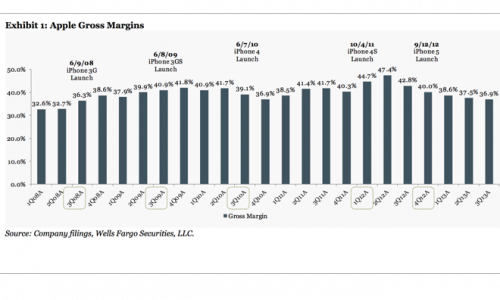 If his prediction proves accurate, it would be the first time since September of 2012 that Apple's company-wide margins exceeded 40 percent. Gross margin took a hit last fall after the launch of the iPhone 5, with a complete product redesign, as well as the competitively priced iPad mini.

Apple's margins have shown a clear trend of dipping after the launches of the iPhone 3G, iPhone 4, and iPhone 5. But they have also increased following the debuts of the iPhone 3GS and iPhone 4S.
In general, such margin increase can strengthen the company's position in the market. Moreover, it can finally eliminate fears among the investors about Apple's smartphone commoditization.

Leave a comment