iPhone 6 Beaten by Galaxy S6 and LG G4 in Performance Tests

According to a recent performance test conducted by Tom's Guide reporters, Apple's iPhone 6 is no longer world's fastest smartphone. As proved by the results shown in the chart below, the device manufactured by the guys from Cupertino managed to get only the third place. The first and the second spots are occupied by Samsung Galaxy S6 and LG G4.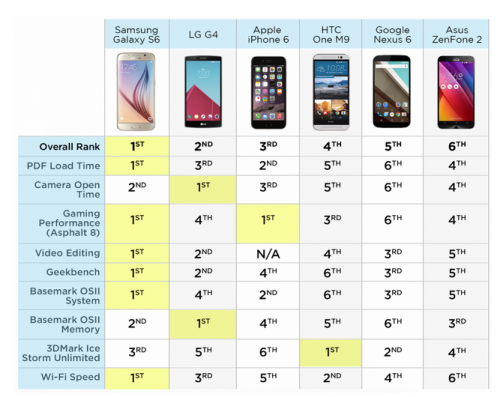 The reporters evaluated six smartphones including the Galaxy S6, iPhone 6, HTC One M9, LG G4, Google Nexus 6 and Asus ZenFone 2 using a number of performance tests. In particular, they utilized several benchmarks and a number of tasks for each device.
The site tested the smartphones using a variety of methods, including: PDF Load Time, Camera Open Time, Gaming Performance, Video Editing, Geekbench, Basemark OSII System, Basemark OSII Memory, 3DMark Ice Storm Unlimited, and Wi-Fi Speed.
As you probably know, Apple is expected to release a new handset or handsets later this year. Since they will be equipped with new processors and 2GB of RAM, I think they will become faster than their rivals. And what do you think?
[via iClarified]

Leave a comment