iPhone 6, iPhone 6 Plus and iPad Air 2 Now Support Bluetooth 4.2

Apple has updated the specs for several devices, namely, the iPhone 6, iPhone 6 Plus and the iPad Air 2 to show that these gadgets now support Bluetooth 4.2. In case you don't know, earlier the aforementioned Apple-branded portable devices could boast of the support of an earlier standard, Bluetooth 4.0.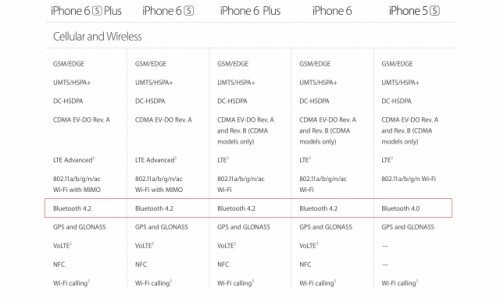 Bluetooth 4.2 is a new standard, which is more power efficient and secured. It allows to transfer data much faster, so it's a substantial improvement for the iPhone 6, iPhone 6 Plus and the iPad Air 2.
Here's what 9to5Mac reporters write about the change:
Bluetooth 4.2 notably promises up to 2.5x faster speeds and up to 10x greater data capacity over its predecessor, as well as improving privacy, security, and power efficiency. Apple is expected to release a new keyboard, Magic Mouse 2, and Magic Trackpad 2 featuring Bluetooth 4.2 technology.
It is currently unknown when exactly and how Apple managed to add Bluetooth 4.2 to the older devices. Most likely, the improvement was included to the latest firmware update, however, this information should be checked and confirmed by reliable sources.

Leave a comment