iPhone 6 Prototype Renderings Leak Online

Several new images appeared on the Internet on Friday that show us both 4.7-inch and 5.5-inch iPhone 6 models. It should be noted that these are not actual photos of the handsets, but something like the prototype renderings. What is interesting about the smartphones shown on these renderings is that both of them feature protruding camera lenses and all-aluminum rear panels. Moreover, there is a chart near the two devices, which shows us sizes of the long-anticipated gadgets. You'd better take a look yourself.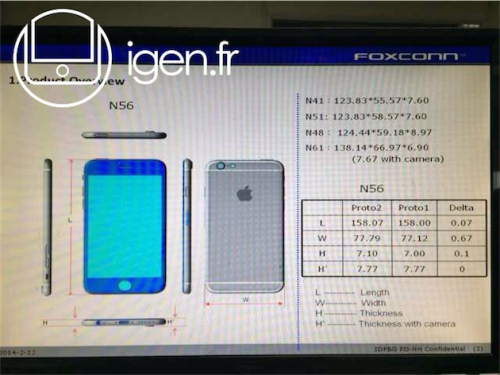 The 4.7-inch version of the so-called "iPhone 6" is said to measure 138 millimeters on the Y axis, 66 millimeters on the X axis, and 6.9 millimeters on the Z axis, while the 5.5-inch model compares at 158 millimeters, 78 millimeters, and 7.1 millimeters, respectively. The shots, first published by French blog iGen.fr, were supposedly taken from internal systems at Apple manufacturing partner Foxconn.
According tot he latest reports from reliable sources, Apple will officially unveil its next-generation iPhone on September 9th. However, nobody knows whether the guys from Cupertino will show us both 4.7-inch and 5.5-inch handsets, or only the smaller one.
[via AppleInsider]

Leave a comment