iPhone 7 Plus Catches Fire, Apple Promises to Investigate Issue

According to the latest report shared by Mashable, an iPhone 7 Plus that belonged to Brianna Olivas smoked and melted one day after being diagnosed as fully working at the Apple Store. Nobody was injured, but the phone melted and became totally useless. The video showing the melting iPhone was shared by Brianna on Twitter. The short video went viral and now has more than 1 million views.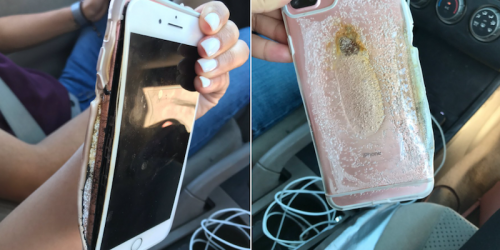 On Tuesday, the iPhone 7 Plus was taken to the Apple Store as it didn't turn on. After the diagnostics, the phone began working again and everything seemed fine. On Wednesday, however, the phone exploded and started smoking. The case that was on the iPhone ended up being completely molten after the phone had died.
Brianna took the phone to the Apple Store and Apple promised to investigate the issue. The results of the investigation will be available no sooner than next week.
That's not the first time the iPhone went on fire. Usually, the problem seems to be caused by users who forget to take off the cases before plugging their phones in rather than by faulty hardware.
[via Mashable]

Leave a comment