iPhone 8 to Get 2K Display, 3GB of RAM, and 256GB of Storage

According to the latest report from TrendForce, the next-generation iPhone will get a 5.8-inch 2K display and 3GB of RAM. The report also corroborates earlier rumors suggesting Apple will get rid of the Home button and add two storage options, namely, 64GB and 256GB.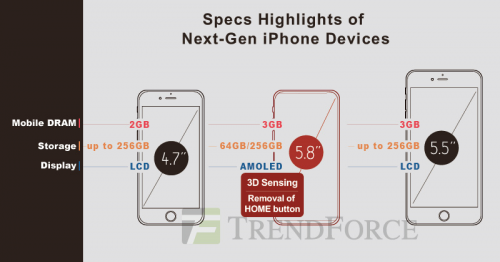 TrendForce researchers claim the new iPhone 8 won't have a curved display as it performs worse in drop and other types of tests. The front panel will feature a new 3D-sensing technology, report says.
Aside from the revamped iPhone 8, Apple is said to be working on two other models. The 4.7-inch iPhone 7s will get minor design changes, 2GB of RAM, up to 256GB of internal storage, and an LCD display. The 5.5-inch iPhone 7s Plus will be slightly larger and feature 3GB of RAM.
TrendForce shipping estimates for 2017 are 100 million units. The experts believe that next year Apple may ship up to 230 million iPhone 8, iPhone 7s, and iPhone 7s Plus units.
Apple will unveil the new iPhone lineup in September.
[via TrendForce]

Leave a comment