iPhone Dev-Team releases RedSn0w 0.9.6b5 for unlockers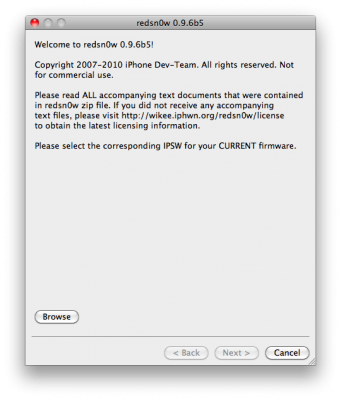 The iPhone Dev-Team has released RedSn0w 0.9.6b5 for unlockers stuck at the 05.14 or 05.15 basebands.
The new redsn0w 0.9.6beta5 is out.  It gives both Windows and OSX users the ability to flash the iPad 06.15 baseband on iPhone3G or iPhone3GS.  It fetches the baseband files directly from Apple for now (the only IPSW you ever point it at is the stock IPSW for the FW on your iPhone right now).  There may be a long delay while it's doing this (their servers are currently getting pounded).
You can download the new version of RedSn0w here:
Download version for Mac OS X:
Download version for Windows:
Windows 7 and Vista users, please run redsn0w as Administrator in "XP Compatiblity Mode".
We will soon post step-by-step tutorials.
UPDATE: tutorial for iPhone 3G (Windows), tutorial for iPhone 3GS (Windows)
UPDATE: Please, consider reading our Jailbreak & Unlock FAQ, especially if you have questions or troubles.

Leave a comment, read comments [3]