iPhone Sales May Be Stronger than Expected this Quarter - Analyst

According to a normally reliable analyst Katy Huberty of Morgan Stanley, iPhone sales can be stronger than expected this quarter and there're several possible reasons for that. Let's take a brief look at these reasons.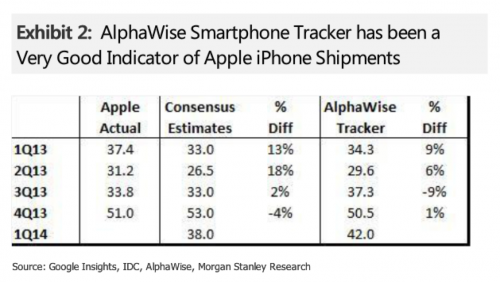 As you probably know, such retail giants as Best Buy and Walmart often offer various discounts on different iPhone models. This can lead to the increase in demand for Apple's handsets and as a result - increase in sales.
As noted by iClarified,
Huberty says that the Morgan Stanley "Alphawise Smartphone Tracker" has Apple announcing 42 million iPhones shipped for the March quarter. That's more than the 38 million units suggested by supply chain data; however, Huberty says that the supply chain may work overtime during the holiday quarter to generate extra product then relax in the March quarter.
Anyway, we should keep in mind that these are only predictions and whether Apple will be able to improve its quarterly results or not is still a question. We'll see.

Leave a comment