iPhone Shipments Are Now Higher Than PC Shipments [Chart]

According to the chart shared by Asymco analyst Horace Dediu, iPhone shipments are now higher than the shipments of Windows PCs. 2015 became the first year in the history when the number of personal computers sold to customers worldwide turned out to be lower than the number of Apple-branded smartphones. Notably, the PC shipments continue to decline, while iPhone shipments still grow.
The chart below demonstrates the relation of iPhone, iPad, Mac and PC shipments to each other.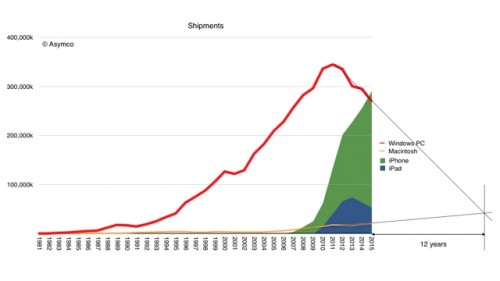 Apple's shipments of iOS devices now outnumber shipments of Windows PCs, reports Asymco analyst Horace Dediu.

Dediu shared a chart tracking Windows PC, Mac, iPhone, and iPad shipments on Twitter earlier today as "Idle amusement."
If all the shipments remain at current paces, the number of Macs sold to customers worldwide will overtake the number of Windows PCs in 12 years.
[via iClarified]

Leave a comment