Jony Ive Officially Becomes Apple's Chief Design Officer

Jony Ive has finally become Apple's Chief Design Officer. His profile on Apple's official website has been updated recently to reflect his new post. Apart from Ive, two other company executives have been promoted. These are Alan Dye who is now Apple's Vice President of User Interface Design and Richard Howarth, the chief of Industrial Design department. As you might have guessed, Dye will be responsible for the software and its look and Howarth will focus on the hardware.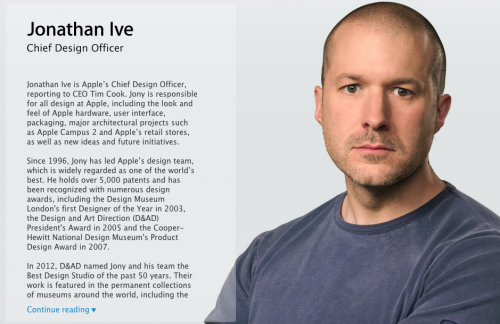 After announcing the change in a company-wide memo last month, Apple today has officially updated Jony Ive's executive bio on Apple.com to reflect his new role as Chief Design Officer.
Jony Ive will take charge of Alan Dye and Richard Howarth, while Apple CEO Tim Cook will control the actions of all of the aforementioned executives, which is quite obvious.
The changes in the company hierarchy shouldn't affect the company policy and the way its products and services look like. Well, at least I hope so. We'll soon find out if anything changes as Apple is expected to release several new devices by the end of 2015.
[via 9to5Mac]

Leave a comment