Keyboard and Trackpad Freezes on Apple's New MacBook Pro

New Retina MacBook Pro seems to be quite a faulty device. Although it is equipped with Intel's latest Haswell processor, Iris graphics and fast SSD, numerous users report about issues connected with laptop's keyboard and trackpad, caused probably because of a conflict between OS X Mavericks and the hardware.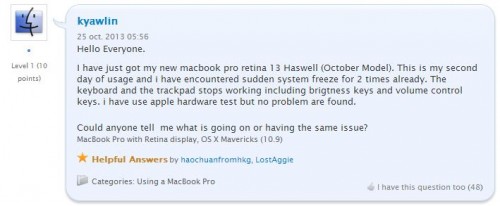 AppleInsider reports that
The largest thread [on Apple Support forum] related to the issue features more than 250 replies spanning 17 pages. Users have reported seeing the problem with every hardware configuration of the slim notebooks, with both 13- and 15-inch models seemingly equally affected.

Most users say that a hard system reset is the only cure when the systems freeze, while there are sporadic reports that cycling sleep mode by closing the lid and reopening it can reanimate the input devices.
Who'd ever have thought that Apple's high-end laptops would cause so much troubles for users.

Leave a comment