Leaked Image Showing Battery for Next-Gen iPhone Appears Online

A photo showing something similar to the battery for the upcoming iPhone 6s has recently appeared on the Internet. The image has been first spotted and shared by French reporters from  Nowhereelse.fr, so I think we can believe what we see.
Although the battery contains all the usual references to Apple's battery supplier, its capacity leaves much to be desired. As can be seen on the image below, the leaked part has a capacity of only 1715 mAh, which indicates that it may have been manufactured for the smaller 4-inch iPhone. In case you don't know, the guys from Cupertino have reportedly decided to put off the release of a smaller handset until the next year.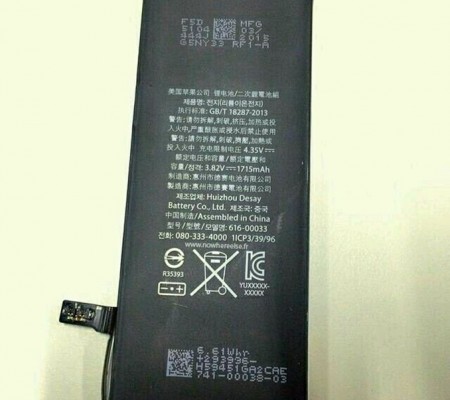 French site Nowhereelse.fr last week shared a photo [Google Translate] of a battery appearing very similar to an iPhone battery and labeled as being from Apple's usual supplier, but the battery's capacity of 1715 mAh leaves questions as to whether the battery is intended for the upcoming "iPhone 6s" or a smaller "iPhone 6c" that has reportedly been delayed or canceled.
Apple's iPhone 6 has a battery capacity of 1810 mAh. I don't think that Apple will equip the next-gen smartphone featuring a more powerful processor, 2GB of RAM, new LTE and NFC chips with a battery with lower capacity.
What do you think about the leaked image? Leave your comments below this post.
[via MacRumors]

Leave a comment