Leaked Images Show Alleged iPhone 6 Home Buttons

A couple of new photos showing leaked parts for Apple's next-generation iPhone have recently appeared online. This time the images depict something very similar to the home buttons for both 4.7-inch iPhone 6 and the 5.5-model nicknamed iPhone Air. As usual, the photos have been spotted on Nowhereelse.fr, that is why I think they are legitimate.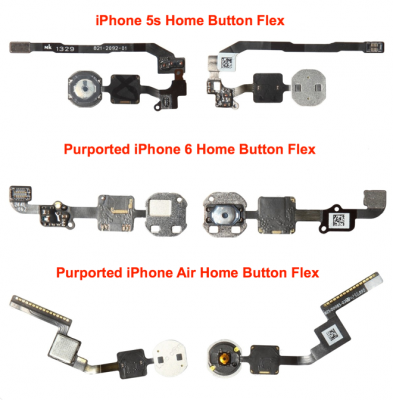 What is interesting about the leaked parts is that they differ greatly from each other and from the same part found in the iPhone 5s.
The images shared by Nowhereelse.fr suggest that while the iPhone 5s home button cable looped around with a 180-degree turn, the 4.7-inch "iPhone 6" version will be a straight cable, while the 5.5-inch version may have a slight curve. The parts, if they are indeed legitimate, imply that Apple will have very different internal layouts for both of its anticipated upcoming "iPhone 6" models.
Apple is expected to unveil its next-generation iPhone on October, 14th. And this is strange since earlier it was reported that the new handset will be released in September. Looks like the guys from Cupertino encountered some manufacturing difficulties or something like that.
[via AppleInsider]

Leave a comment