Leaked Photo Showing 4-inch iPhone 5SE Surfaces Online

Last week, a rumor suggesting the smaller 4-inch iPhone will be called the iPhone 5SE, not the iPhone 6c, appeared on the Internet. Today, one interesting photo proving that the design of the handset will resemble the design of the iPhone 5s surfaced online.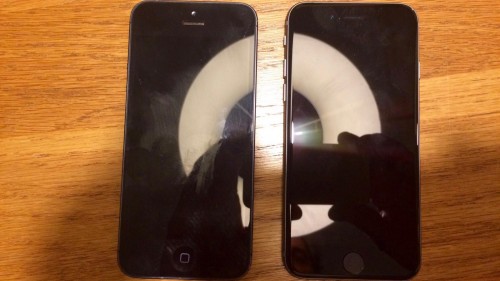 The image below reveals the gadget with the size and shape of the iPhone 5 and iPhone 5s, Touch ID fingerprint sensor, lock button on the right side as well as mute and volume buttons on the left side of the handset. As to the tech specs, they reportedly include the A8 processor, 1GB of RAM, 8-megapixel rear and 1.2-megapixel front camera, NFC and more.
The image appears to show what could be the updated smaller iPhone with rounded edges and Touch ID as we reported next to an iPhone 5 for scale. The source where the image was first shared, on One More Thing forums, has credibility with surfacing leaked hardware after showing the thinner iPad Air 2 display two years ago as well as the iPad Air design (on what appears to be the same table under the same lamp as the iPhone leak) the year before.
Apple may unveil the 4-inch iPhone as soon as this March at a separate media event devoted to the handset as well as to the new updates to the Apple Watch. The production of the smaller handset has reportedly started earlier this month. The start of the production is one of the main reasons for the last couple of iPhone 5SE leaks.
[via 9to5Mac]

Leave a comment