LinkedIn Announced a CardMunch iPhone App For Converting Business Cards Into Digital Form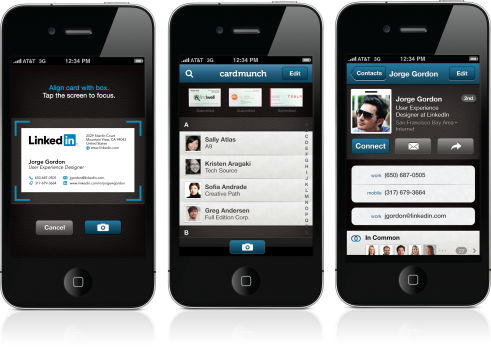 Smartphones can be useful for doing many things, especially for management of personal information. If you regularly deal with business cards, you likely found specialized applications that allow you to effortlessly scan any business card to create a new contact entry on your device. The App Store has dozens of such apps as iPhone's Business Card Reader from Shape Services.
Most of such apps are paid and today their makers face a serious competitor: popular social network for business professionals LinkedIn. Today this company announced a free app for iPhone called CardMunch. Like similar programms on the App Store, this app can scan business cards and convert them into a digital representation.
But unlike other similar apps, CardMunch can link the business card to a LinkedIn profile:
"By using the new CardMunch app, you now have access to deeper and richer information about the person behind the card — via the LinkedIn profile — who you know in common, where they've worked, where they went to school, and much, much more!"

Leave a comment