Lost iPhone Prototype Affidavit Revealed - Totally New Details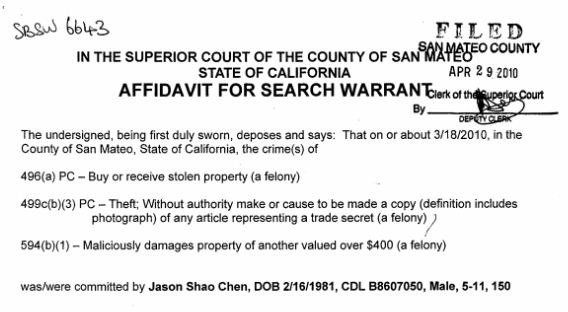 This Friday Judge Clifford Cretan from San Mateo County in California unsealed the affidavit of the lost iPhone prototype case. Cnet was first who studied the document and concluded that Steve Jobs personally called Gizmodo editor Brian Lam to return iPhone:
"Jobs requested that Lam return the phone to Apple. Lam responded via the e-mail address...that he would return the iPhone on the condition that Apple provided him with a letter stating the iPhone belonged to Apple."

Document also reveals the story known publicly - Brian Hogan found an iPhone lost by Apple engineer and then sold it to Gizmodo. When its editor received it, he disassembled and made digital images and videos of it.
Kim Zetter from Wired also reports the affidavit mentioned Brian Hogan's roommate, who contacted Apple Security because she thought she may be arrested as an accomplice in theft.
She also called to police two days later, when Brian Hogan and Thomas Warner (another roommate) tried to remove evidence from their place, including thumb drives, memory cards, serial number stickers on iPhone and desktop computer.
Police decided to chase both of the roommates. Eventually they were found and then they told where they had dropped the items - the desktop was left near church, stickers were dropped at a gas station and other things were thrown in shrubs.
Honest roommate who gave a tip to police also said Brian knew Powell was an iPhone owner:
"Hogan had found the phone and had been offering it to news outlets in exchange for a payment, despite having identified Powell as the rightful owner from a Facebook page visible on the phone's display when he found it."
This statement counters to the original Wired's report where the author was ensured Brian was cooperating with police. In fact, it means that iPhone acquiring was a theft under Californian law, because Brian knew who is the owner but didn't try to give it back to him. The affidavit reveals that he once told his roommate:
"Sucks for him [the Apple engineer]. He lost his phone. Shouldn't have lost his phone."
Moreover Brian was going to get $3,500 more from Gizmodo after Apple's iPhone 4G presentation, so his $5,000 transaction wasn't "sharing" (as it was said before) at all.
Kim Zetter also reveals that Apple commented on the situation in the affidavit. It was said that this prototype was "invaluable" and publication of information about it was "immensely damaging" as many people will now stop acquiring iPhone 3GS in order to wait for the upcoming new-generation model. After disassembling the prototype it became damaged, and publishing the photos of the disassembled device is an act of copying trade secrets.
Earlier many media outlets demanded from the court to unseal the affidavit to understand whether the police intrusion was legal. Typically such documents become publicly available within 10 days. The paperwork related to the police raid occurred on April 23 but was unsealed by Clifford Cretan on Friday as he determined that such an action will not compromise the investigation.

Leave a comment