Mac OS X Lion's interface in screenshots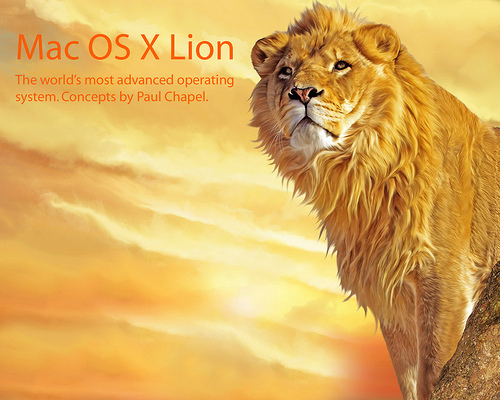 Along with new architectural features new version of Mac OS X also sports new look for the iCal, Mail and Finder, and some other applications look slightly different due to adoption of design elements implemented in the iPad. AppleInsider received the screenshots of new Lion's interface, and we're posting them below.

Mail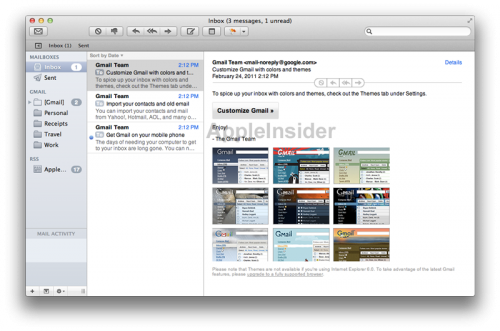 The new version of Mail now has a widescreen layout similar to the one on the iPad. Conversations is one of the features that groups related messages automatically for an easy-to-read timeline. The app also received a better search and Microsoft Exchange 2010 support.
The Address Book inspired by its iPad version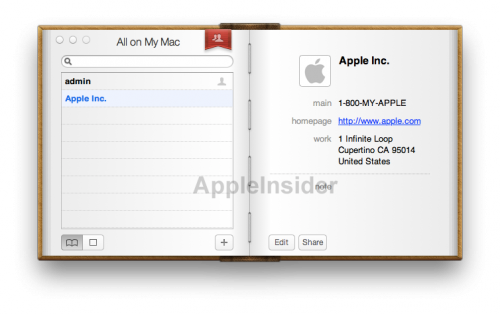 iCal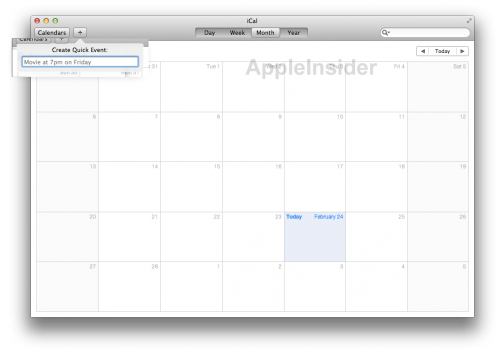 Finder
Mac OS X 10.7 Lion's Finder has got a new view named "All My Files", which shows all the files on a Mac's hard disk that belong to the user. It works like Cover Flow, which means that rows may be scrolled with the trackpad, mouse or arrow keys, if the visible portion of the Finder window cannot fit all the documents and applications.
The support of new multi-touch gestures will be especially handy for those who have more recent MacBooks with larger click TrackPads. It is also reported that scrolling down a webpage in Safari became also possible with two-finger scrolling up, which is the same as on the iPad but the opposite of how it works in previous version of Mac OS X, Snow Leopard.
Those who have Magic Mouse, Magic TrackPad and MacBook TrackPad will also get the support of additional multi-touch gestures. For example, an access to the Desktop may be achieved by spreading fingers, and a pinch gesture will bring up the Launchpad.
Launchpad
Launchpad makes it even simpler to find applications in Mac OS X. It requires only one single click to display all the installed apps in a full-screen layout that reminds an iPad's home screen. This is where you can launch, reorganize and place apps into folders.
Mission Control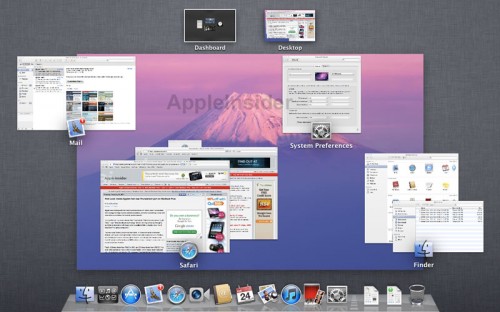 Mission Control combines Dashboard, Expose, Spaces and full-screen apps, thus helping users to manage all the windows and applications that are currently running on Mac OS X Lion. It also provides thumbnails of the Dashboard and full-screen applications.
Scrollbars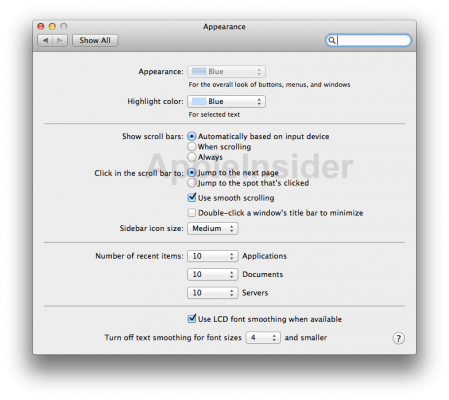 As we reported earlier, the scrollbars are usually hidden and appear as an overlay when the user scrolls. After scrolling they stay visible for a short period of time so that user could operate them.
New privacy settings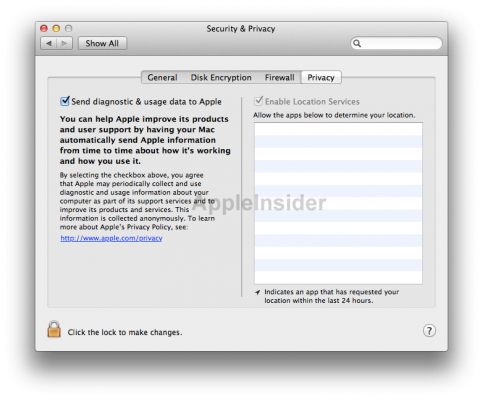 New Security option has been added in the System Preferences, which allows users to choose whether they want to send diagnostic data to Apple or not and to enable or disable location services on their Macs.
Parental controls have also been enhanced and now allow users to restrict access to certain programs, websites and even to the whole system at certain times of day.
TextEdit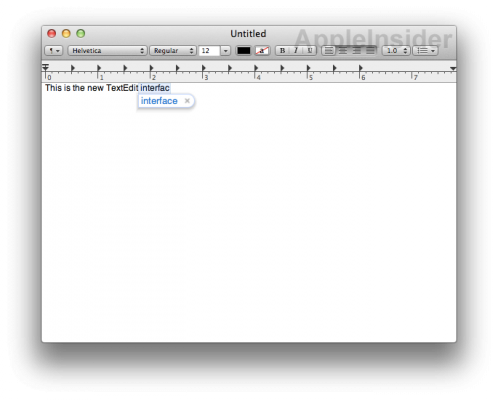 TextEdit interface was also changed. Autocorrection UI now also looks like in the iPad.
Preview
An updated Preview allows users to view content and sort pictures in new manners.

Leave a comment