MacBook Pro Uses Report Better battery Life on macOS Sierra 10.12.2

Looks like Apple has quietly resolved the problem causing poor battery life on the new 13-inch and 15-inch MacBook Pro units. More and more users are starting to see these improvements on macOS Sierra 10.12.2.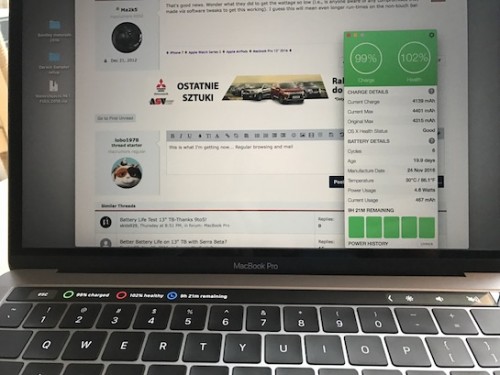 According to MacRumors readers, the battery life of new laptops is now much closer to the one Apple specified when announced these devices. Many users are getting lower power consumption when using their laptops. This seems to be the main reason for better battery life.
Here's what one MacBook Pro user writes:
Before the update was getting 7-9 hours with 50-60% brightness. Now getting >10 hours with 70-75% brightness with the same workload (Wi-Fi and Bluetooth on of course).
In macOS 10.12.2, Apple ditched the "time remaining" indicator used to show the estimates on how long will the laptop work on a single charge. While this is not the reason for better battery life, it's good that Apple fixed this and other issues reported by so many owners of the laptop.
[via MacRumors]

Leave a comment