MacBook Pros getting updated soon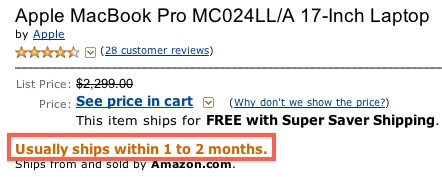 Several sources claim that the stock for the 15-inch and 17-inch MacBook Pros is beginning to run low. Some resellers have suggested that Apple might be planning to update the product line.
The 17″ MacBook Pro generally appears to be in the shortest supply at the moment, with Amazon quoting a shipment window of 1-2 months for the base Core i5 model. For its part, Apple continues to show "within 24-hour" availability of all MacBook Pro models in its online stores, suggesting that the company may be prioritizing remaining stock to serve its customers directly.
The updated MacBook Pros might receive Intel's Sandy Bridge processors, internal Solid State Drives, thinner design and implemented USB 3.0 or Intel's Light Peak.

Leave a comment