Microsoft mocks iPad - Again

According to CNET, Microsoft has released another video to mock Apple's iPad. Such information was shared today on Twitter. What kind of video is that?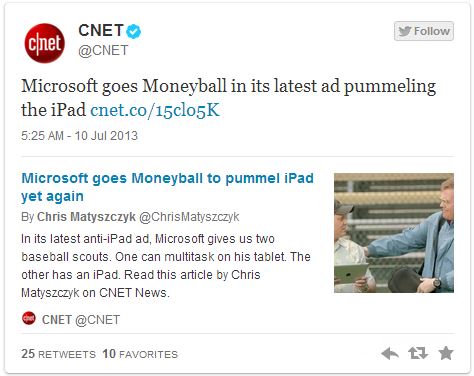 As to the plot, it's rather simple - two baseball recruiters are having a Skype-conversation with their bosses. One holds a Windows tablet and the other one - an iPad. As usual, Redmond tablet turns out to be a lot better and faster and iPad fails to accomplish simple tasks like grabbing some data from the Net while having a video chat with somebody via Skype.
Looks like we've already seen something like that before, don't you agree? It's a bit disappointing, but Microsoft, unlike Samsung, doesn't have so many creative ad makers.
You can watch the new iPad vs Windows tablet video below. Hope you'll Enjoy!

Leave a comment