Microsoft Starts Trade-In Program for Apple Watch Users

Microsoft has recently launched a special trade-in program for those who are interested in switching from the Apple Watch to the new Microsoft Band 2. Even though I don't think that there're people willing to replace their Apple Watches with something much simpler, looks like Microsoft hopes to lure more customers and increase the popularity of their updated fitness tracker.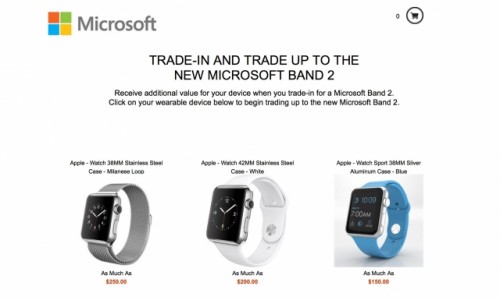 The company offers up to $150 for the 38mm aluminum Apple Watch Sport, $200 for the 42mm stainless steel Apple Watch and $250 for the 38mm stainless steel Apple Watch with the Milanese Loop band. The retail prices for the aforementioned models range from $349 to about $649.
As to the Microsoft Band 2, it's more like a fitness band than a smartwatch. It lets the user monitor physical activity and get notifications from a compatible smartphone. In terms of design, the device looks simpler than the Apple Watch and lacks the shape of the premium device.

Leave a comment