Millennium Media Has Ranked iPhone As A Top Mobile Phone Three Years Running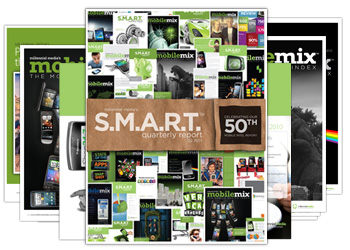 Advertising firm Millennial Media just issued its 50th Mobile Intelligence Report regarding trends on the mobile phone market on the basis of ad impressions. The report suggests some interesting conclusions about the general trends in the industry.
According to data in the report, iPhone has been number one smartphone for three years in a row. Based on ad impressions, Millennial has ranked iPhone as the leading mobile phone from 2009 till this year.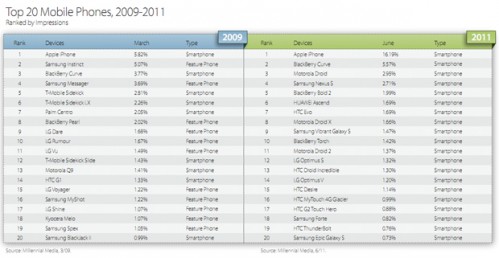 Apparently, Millennial considers the iPhone as one model, although Apple has sold three different version during this time period (iPhone 4, iPhone 3G and iPhone 3GS). In addition, phone models from every other manufacturer were individually listed.
Another data set is also based on ad impressions during the same time span and is used to rank phone manufacturers. In 2009, Apple took third place with just about 11 % share of the phone market. But this year's report ranked it first with almost 31% share of the market.
GigaOM published some interesting conclusions made from the Millennial Media's report. All of them show how the iPhone has affected the industry over three previous years:
- today 60 percent of mobile phones are manufactured with a touchscreen, as opposed to only 33 percent in 2009.
- all top twenty top phones are smartphones, as opposed to only nine in 2009.
- Android is a leading OS for smartphones by impressions with 53 percent of all impressions served, and iOS follows with 27 percent.
- devices such as iPod touch and tablets make up 17 percent of all impressions, while smartphones make up 67 percent.

Leave a comment