Morgan Stanley Report Reveals Apple Stock Can Rise To $400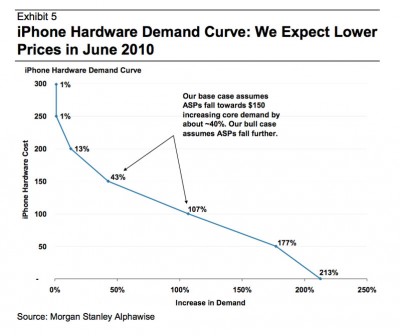 Today Katy Huberty, who is an analyst at Morgan Stanley, revealed a survey for investors that found out interesting forecasts about Apple. It is said that 58$ of all iPhone customers are going to upgrade their mobile device in 2011. In 2008 there were only 18% of them. That means that Apple will sell 18 million more iPhones in 2011. Such a big demand in turn can cause a 50$ drop in prices or $20 in case of service plans costs.
Morgan Stanley also predicted that Apple stock will rise to $310 and even to $400 if Apple is going to be more aggressive in its pricing policy.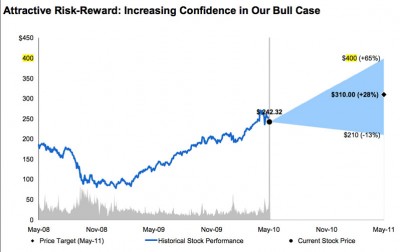 Katy Huberty said Apple can achieve 7 million unit sales more if the partnership with Verizon will be finally established. 16,8% of all Verizon customers would purchase an iPhone if they had an option. But Huberty assumed it can be possible only in 2011. Another way of developing Apple's business Morgan Stanley sees in broader distribution and expanding to new countries across the world.
It is interesting that in 2008 Morgan Stanley predicted the iPhone sales will go down because of its high price. In a year after company changed its mind and stated Apple had become the leader in the battle over mobile Internet.

Leave a comment