MuscleNerd Confirms TaiG Jailbreak for iOS 8.1.1 is Safe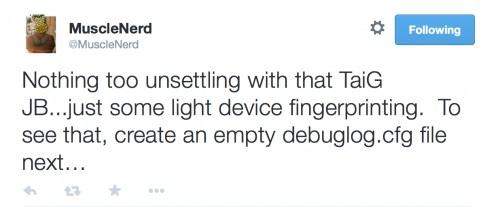 MuscleNerd, a respected hacker in the jailbreak community, has confirmed via twitter that the TaiG iOS 8.1.1 jailbreak is safe.
Nothing too unsettling with that TaiG JB...just some light device fingerprinting. To see that, create an empty debuglog.cfg file next…
to the exe file. From then on, when you run the tool it'll log the urls accessed in a log/.log file.

The untether is much more transparent than Pangu (unobfuscated, and kernel is left open to inspection via "standard" task_for_pid0 patch)
The jailbreak was unexpectedly released two days ago by a Chinese team of hackers. Currently, a utility has only been released for Windows. We'll let you know as soon as a Mac OS X one is available.
You can download the TaiG jailbreak from here. Our step by step tutorials are available here.

Leave a comment