MWSF 2010: DriveSavers, Sky Voyager, Papershow, Inklet and Yapper

In this last post we'll tell you about new Drivesavers instructive app, virtual iPhone planetarium, papershow tool for making presentations, Inklet software to turn Mac multi-touch trackpad into a drawing tablet and a tool for creating your own iPhone apps.
Free DriveSavers Hard Drive Disk-aster Simulator app for the iPod Touch and iPhone is a new way to study how a hard disk works. It teaches in interactive fashion about all the things that may crash a drive, what happens during a seized motor, clicker failure, SSD failures, contamination and head crashes. Also you'll learn how the data recovery gets done and see the inside of a hard disk. That looks pretty instructive.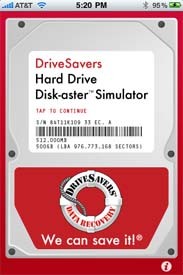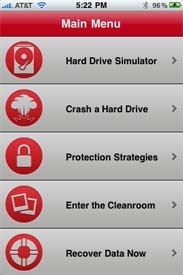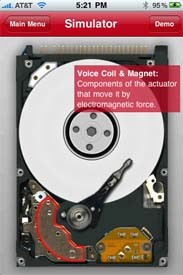 Carina Software demonstrated their new Sky Voyager application, which works as a virtual planetarium with a large database of stars and other deep sky objects. It supports 3GS compass to identify sky objects by holding your iPhone up to the sky. Carina Software also developed a SkyFi wireless adapter that provides an interface for remote telescope control directly from your iPhone.

PaperShow by Canson is a presentation tool that uses pen/paper combination to control your presentation and annotate in real time. The product includes a pen with camera and marked paper. You print your presentation onto the paper and annotate it with the pen in real time. The pen follows the microscopic dots on the paper to translate your notes onto the screen. You can change colors and shapes and use different functions. All this including Bluetooth adapter and pad comes for $199.

Inklet trackpad tablet software allows you to use your Mac multi-touch trackpad as a pressure sensitive drawing tablet. The drawing can be resized and panned around (by two fingers dragging) if you think there's not much place to draw. The app is created by Ten One Design and is available now for $25.

SachManya offered another web-based tool named Yapper at MWSF. Yapper is a product that allows you to build iPhone apps that are based on an RSS feeds. It is targeted at different content providers who would like to quickly create an iPhone app based on their own content. When the app is finally developed it is sent for approval in the App Store. The price for Yapper on the MSWF is $99, the regular cost is $499 and it comes higher with additional features.

Well that is almost all that was presented and shown on the MacWorld Expo 2010 in San Francisco. Though there were many curious personalities and events, we intentionally put an emphasis on the different applications and gadgets as it was really interesting at the MWSF. Don't you agree?

Leave a comment