Nearly 1,000,000 Apple devices already jailbroken using Absinthe 2.0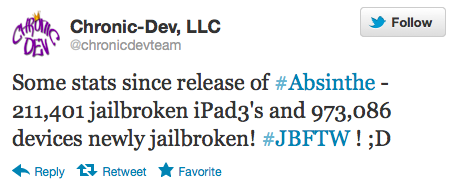 The Chronic Dev-Team has announced that nearly 1,000,000 iDevices have already been jailbroken with Absinthe 2.0.
Some stats since release of #Absinthe - 211,401 jailbroken iPad3's and 973,086 devices newly jailbroken! #JBFTW ! ;D
Our step-by-step tutorials for Absinthe 2.0 are available here.

Leave a comment, read comments [3]