New Design for iPod nano?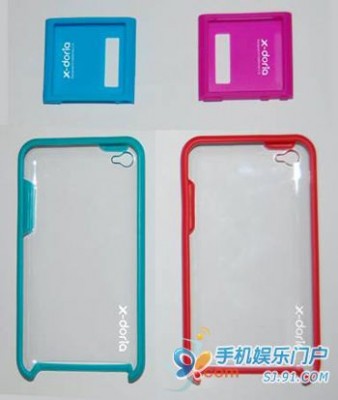 As stated previously, case images for the upcoming iPod nano have leaked on the Internet, and they show that it is going to be a very small square device with a touchscreen.
The cases for the next generation of iPod touch and iPod nano models were manufactured by a Chinese company X-Doria, and the images were obtained from a Chinese website.
In the back of the iPod touch case we can see an opening for a camera and flash. The images also show that the design of the iPod touch won't resemble that of the iPhone 4, as thought previously.
The two supposed iPod nano 6G cases, on the other hand, appear to be made for a squarish device based on the 1.8-inch Apple-branded touchscreen seen in photos earlier this year, without any room for a front-mounted Home button. The nano 6G case features an open strip on the rear—perhaps for a camera or built-in clip—as well as what appear to be volume buttons and a larger button on the top side while a Dock Connector and headphone port are along the bottom.
There have also been claims from analyst Shaw Wu who says that Apple's next iPod nano might lose its traditional click wheel, and the images above certainly prove this assertion.

Leave a comment