New Mac Mini And iMac Will Retain Same Pricing, Apple To Offer 8 GB RAM Modules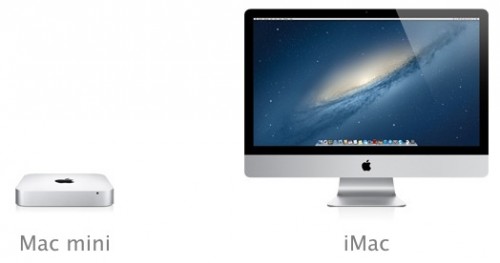 According to 9to5Mac's report, Apple's new Mac mini and iMac that will launch next week will retain the pricing of the current models, which almost certainly confirms that forthcoming iMac models will not include more expensive Retina displays.

The news contradicts earlier rumors claiming that the new iMac would feature higher pricing and have a thinner form factor.
9to5Mac also reports that for the first time Apple will provide 8 GB RAM modules for Mac mini and iMac. While third-party manufacturers have long sold 8 GB modules for Apple's computers, Apple has offered only 4 GB module options and thus listed official support only for 8 GB RAM in the Mac mini and up to 16 GB RAM in the iMac.
The new 8 GB modules will allow users to buy Mac mini with up to 16 GB of RAM in the computer's two RAM slots and configure iMac with up to a total 32 GB of RAM, assuming the machine will retain four slots as on the current iMac models.

Leave a comment