New Survey Reveals That iPhone 3GS Drops Calls More Often Than iPhone 4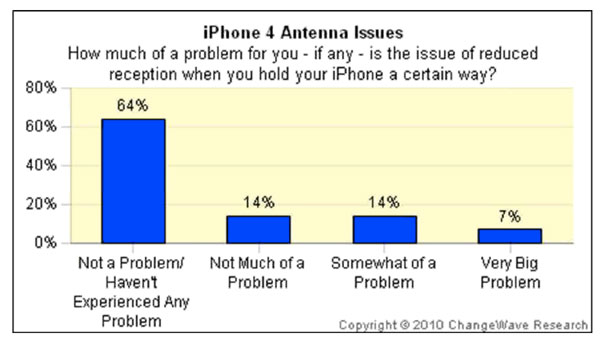 Today ChangeWave Research revealed the results of its survey on iPhone 4. 213 new handset owners were questioned in a few weeks after the launch of the latest Apple's smartphone, between July 19 and 28. Here is a list of facts that were revealed:
In June 6.3% of iPhone 3GS owners experienced dropped calls, in July only 5.2% of those who use iPhone 4 had dropped a call at least once. ChangeWave Research's vice president Paul Carton says that means that iPhone 4 is quiet better at making calls:

"Despite all of the issues surrounding the antenna, in actuality iPhone 4 owners reported experiencing fewer dropped calls on the average than iPhone 3GS owners".

35% of respondents were 'very satisfied' and 38% were just 'satisfied' with Apple's solution of 'Antennagate' problem. 18% were somehow 'unsatisfied'.
Antenna issue made people to become less satisfied with iPhone 4 than with iPhone 3GS, which was revealed a year ago. Paul Carton explains that with a ballyhoo in mainstream media.
13% of iPhone 4 owners were disappointed with their handset, while there were only 6% of those who didn't like iPhone 3GS.
Three best things in iPhone 4: Retina Display (49% of respondents liked), 5MP-camera with LED flash (31%) and touchscreen interface (30%). Multitasking was fifth (22%) and FaceTime function was ninth (15%).
Three things people don't like in iPhone 4: restriction to AT&T's network, its quality and antenna issue. The same complaint about AT&T network's quality people have had for years with other Apple's smartphones.
It is important to notice that the survey didn't take teenagers into account so the results may be slightly different in real life.






Leave a comment