New versions of iPhone OS 4 have spellcheck support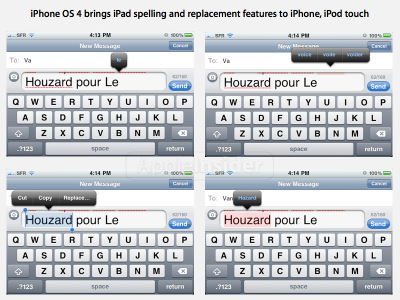 Those developers who study new beta-versions of iPhone OS 4.0 reveal that new firmware has features of suggested word replacement and spellcheck imported from the iPad to the iPod touch and iPhone. They were presented first in iPad which has iPhone OS 3.2.
Spelling system allows users to select a misspelled word with a touch and then choose «Replace...» instead of using copy/paste operations. The word that was misspelled is underlined in red like in Mac OS X or Microsoft Word. After that system offers replacement word suggestions that also can be chosen with only one touch.
Apple announced that iPhone OS 4 will also allow iPod touch and iPhone to support iPad's Bluetooth keyboard.

Leave a comment