New Versions of TaiG Jailbreak Utility and TaiG iOS 8.0-8.1.1 Untether Released

TaiG has recently released an updated version 1.1 of its utility for untethered jailbreak of iOS 8.0-8.1.1. This version allows users to choose the language of the interface, Chinese or English, and can boast of the fix for sandbox issue found in the previous version.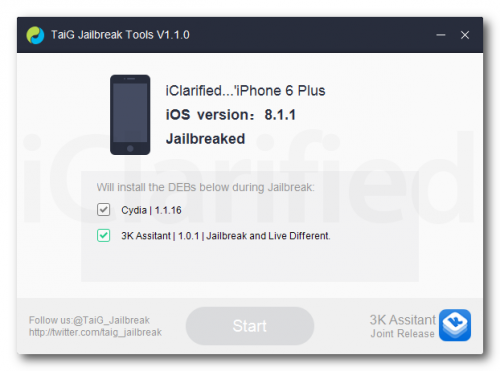 Apart from releasing a new version of jailbreaking tool, the hackers made an updated untether package available in Cydia. If you haven't jailbroken your Phone, it is high time you did it.
TaiG has released an updated version of its jailbreak utility in Chinese and English, as well as an untether package in Cydia.

[...]

Version 1.1 of the jailbreak is said to "Avoid sandbox generate redundant info".
All the owners of the jailbroken iPhones and iPads can install the latest version of the untether package in Cydia right now.
Do you have any problems with the new tool for jailbreak? Leave your comments below.
If you haven't jailbroken you can find instructions on how to do so here. The English version of the TaiG 1.1 utility can be downloaded from here.

Leave a comment