New 'Your Verse' Ads - Videos

Apple has recently posted two new "Your Verse" iPad Air ads. The first one tells us about the composer and conductor Esa-Pekka Salonen, who created an iPad app called The Orchestra, which helps him in creating and editing music. The second is about Cherie King, who is a travelling writer and who is unable to hear. She uses her iPad as a navigator.
Both videos are available below. You may take a look at them at the end of this post.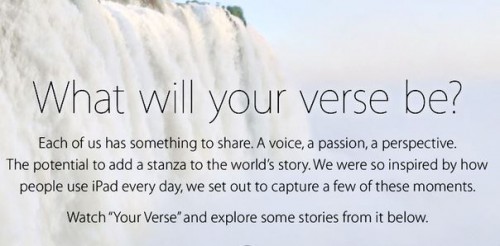 Here's what Esa-Pekka Salonen and Cherie King think about the way they use Apple's iPad:
I wanted to shed light on the symphony orchestra — its history and its present. To explain how and why it works the way it works. (Esa-Pekka Salonen)

Even simple things like overhead announcements at airports are hard for me to pick up. So I've missed flights because I didn't hear about a gate change. Now I use apps on my iPad to see notifications of flight changes. (Cherie King)
What do you think about Apple's new ads? Leave your comments below this article.

Leave a comment