Newsstand in iOS 5 Fueling Growth of New Magazine Subscriptions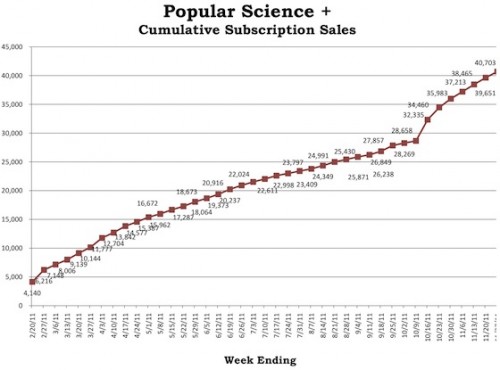 AllThingsD has decided to have a look at how the launch of Apple's Newsstand iOS 5 feature has affected subscription sales. Popular Science magazine was an object for the study that has revealed that the prominent placement of the Newsstand app and easy access to updated content has driven a substantial increase in new subscriptions. In fact, Apple's Newsstand is a new way for users to keep track of their subscriptions, house them in a dedicated folder.
The chart comes to us courtesy of Mag+, Bonnier's tablet-publishing software business. And as Mag+ CEO Staffan Ekholm points out, the really promising indicator for Pop Sci isn't the one-week sales leap of 13 percent — it's that the the magazine's growth picked up after that week, with more velocity.
If you look at the graph above, you will find out that Popular Science appears to have been adding new subscribers at a constant rate of about 700 per week during the several months. Noteworthy, the magazine was a leader among digital media even before the debut of iOS 5. But a month after iOS 5 launch, we see a significant bump in Popular Science subscription sales at nearly double the rate seen before the arrival of Newsstand.

Leave a comment