iPad 3 'Home Button' Parts Start Circulating in China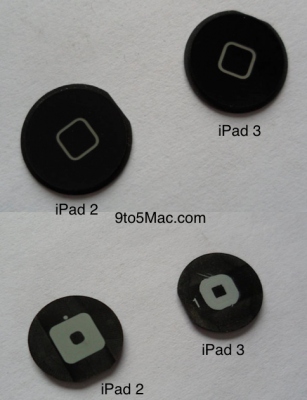 9to5Mac has recently posted photo of the iPad 3 home buttons that was obtained from a Chinese source. Noteworthy, claimed iPad 3 parts have been circulating for some time already in China, but only now photos of the iPad 3' home button have stated leaking out. No real surprises, though it should help kill already sketchy rumors that Apple might do away with a home button altogether.
The above image is a comparison of an iPad 2 home button and an iPad 3 home button. At the surface, not much as changed, but the prospects of some minor structural tweaks do hint at something greater. The iPad 3 home button, which has been handled in both black and white flavors, looks almost identical to the iPad 2 home button. However, the gray glyph representing the frame of a home screen application icon is slightly thicker.
Perhaps the most interesting part about the iPad 3 home button is that its internal structuring is smaller than the iPad 2′s connector. According to the rumors, Apple had to make home button size smaller to accommodate a more pixel-dense Retina Display.
Basing on this photo, we may suggest the following:
The iPad 3 will likely to be launched in both black and white colors
The buttons floating around right now-in large quantities-signal that the iPad 3 is either in production or close to the production stage
The iPad 3 will have the home button in spite of the rumors claiming that the iOS devices could soon loose the home button

Leave a comment