Nielsen: Android And iOS Hold The Lead On The Smartphone Market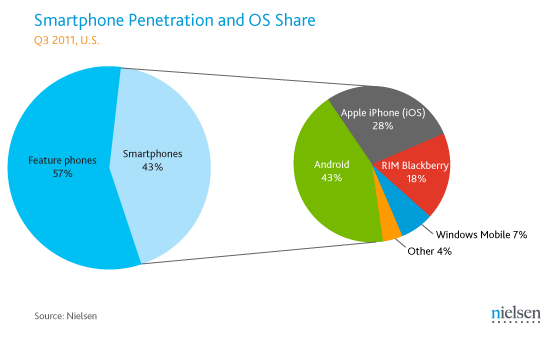 Today research company Nielsen published its survey on mobile users for the third quarter, which confirmed that Android and iOS remain two main player on the smartphone market. Android platform increased its share of the US smartphone market by 4%, from 39% to 43%. During the same period iOS remained flat with 28% share.
According to the study, in the third quarter 43% of mobile phone users reported that they own a smartphone. Such numbers are not a good sign for platforms that continue to see their share decrease as a result of growing Android popularity, unlike Apple. Windows Mobile accounted for 7% share, a 2% decrease. RIM's BlackBerry lost 2% during the third quarter, down to 18% from 20%. And accrding to Bloomberg, RIM's stock has decreased below the book value.
Both Nokia's Symbian and Hewlett-Packard's webOS now fall into the Other category. The third quarter study generally echoed the June quarter data. While Android continues to be the leader on smartphone market, things changes when considering the whole mobile market.
Besides, Apple CEO Tim Cook said at iPhone 4S unveiling that smartphone penetration across different age groups is increasing. As you can see on the graphic below, smartphone penetration among age group of 25-34 has grown from 41% in Q3 2010 to 62% in the third quarter of 2011. Also, around 40% of 45-54 year-old users and 40% of 12-17 year-olds reported having a smartphone.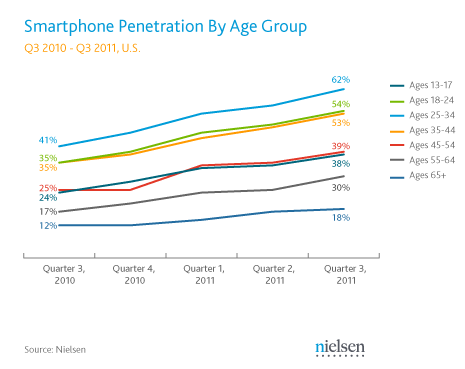 Leave a comment