Not Only iPhone But Even Apple Store Can Be Faked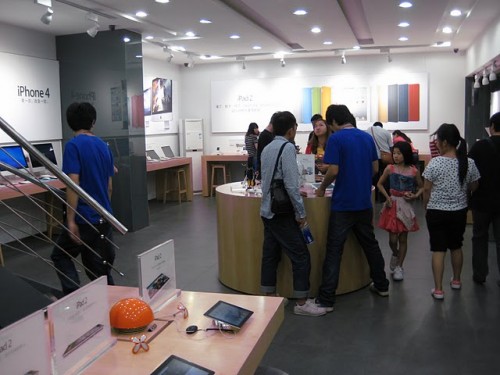 China is a home not only of  fake iPhones, but also of  fake Apple Stores. A fake Apple Store is shown on the pictures from BirdAbroad (via IFOAppleStore). This store is a complete fake with everything that the Apple Store has. It offers all from blue shirts with logos of Apple to name labels for the staff. This store features a light exterior with a luminous, white Apple logo shining in the most conspicuous place.
Entering the store, you will be stepping on grey stone or wood floors with showrooms all around full of iPads, Macs, iPhones and more on wooden tables. These tables are furnished with special, patented Apple product holders and they look almost identical to the tables found in official Apple Stores. This store even rips off Apple's press images, which can be seen on the iPod and iPad 2 shuffle banners.
Also there are twisted stair cases and the accessories that are nearly identical to the official ones, a children area with fun chairs and Genius Bar or an area where you can take lessons in product usage from employees. And the most curious thing is what its workers say about their jobs. Here is what IFOAppleStore reported:
Being the curious types that we are, we struck up some conversation with these sales people who, hand to God, all genuinely think they work for Apple.
The owners of this fake store in Kunming informed their numerous security guards worn in casual clothes to forbid visitors from taking pictures. It's interesting that there are three stores of this kind situated within short distance from each other.

Leave a comment