OS X 10.7.3 Beta Reveals Active Work on 'Retina' Display Support for Mac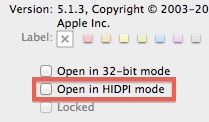 We already reported that Apple is working on "HiDPI" modes in OS X Lion for supporting ultra high-resolution displays to achieve image quality that is seen on the iPhone with "Retina" display.
With new claims that Apple is set to release a new 15" MacBook Pro offering a resolution of 2880x1800 early next year, Apple's work on its HiDPI software support has also been gaining renewed attention. By doubling the resolution in each dimension over the existing 1440x900 MacBook Pro, Apple would achieve four times the number of pixels and provide developers with an easy way to scale existing artwork.
Evidence of Apple work on HiDPI was found in developer builds of OS X 10.7.3, with the "Get Info" window for applications seeing the addition of an "Open in HIDPI mode" checkbox, though it is not functional. Despite the fact that with yesterday's release of Build 11D36 to developers, Apple has now removed that checkbox from the "Get Info" window, it indicates that Apple is indeed likely actively working on the feature.

Leave a comment