OS X 10.8 Mountain Lion Now Is The Most Popular Mac Operating System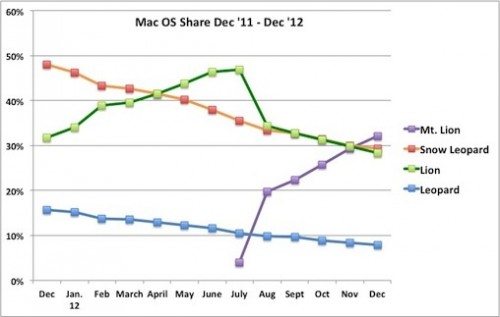 Web analytics company Net Applications published (via Computerworld) its data on browser usage, noting that now OS X Mountain Lion is the most popular version of Apple's OS X, even though it was released just five months ago.
In December, 32 percent of all Macs registered by the company ran OS X 10.8 Mountain Lion. Usage of the previous version of OS X Lion decreased from 30 to 28 percent.
OS X 10.6 Snow Leopard that launched in 2009 remains fairly popular despite its age and still represented 29 percent of Mac usage on the Web. Snow Leopard has been praised for its stability and Apple still sells this version through its online Apple Store.
Reasonably priced and easily accessible updates have always enticed users of Apple devices to upgrade their operating systems. Apple boasted about selling one million OS X 10.7 Lion copies in the first 24 hours of its availability. Mountain Lion also saw fast adoption rate.
Net Applications gather its data by monitoring browser usage of about 160 million monthly visitors on 40,000 websites, providing a pretty accurate picture of the user base of platforms and browsers at any moment.

Leave a comment