Photo of Clipless Next-Gen iPod Nano with 1.3 MP Camera Surfaces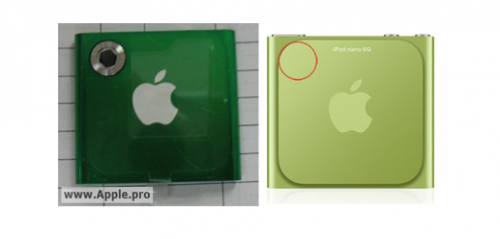 Taiwanese website Apple.pro posted a photo of what they claim to be a seventh generation iPod nano featuring a 1.3 megapixel rear camera. The photo again clearly shows the camera hole, although there is obviously no camera module included with the case. Interestingly, the new photo shows no clip attached to the rear of the case, with the Apple logo appearing directly on the case itself. Today's photo seems to confirm previous speculation that, in order to make room for the camera, Apple would have to ditch the clip entirely, although it doesn't make much sense considering Apple has been heavily touting the iPod nano as a sport accessory that can be worn on the outside of the user's clothing for quick access to device functions.
Today's new report also claims that the iPod nano camera will check in with a resolution of 1.3 megapixels, a fairly low resolution compared to many devices like the iPhone but still higher than that found in the current iPod touch and even the iPad 2. Such cameras are generally intended more for capturing video than high-quality still photos. It's unclear whether this new photo belongs to an iPod nano prototype Apple has been testing, or the final version of the next-generation model as Apple.pro claims. An announcement will likely be made in September at Apple's usual music event.

Leave a comment