Samsung Explained Why Galaxy Note 7 Was Exploding

Samsung has released a report that tells us about the reasons for the Galaxy Note 7 explosions. Notably, the company says that there were several things that caused the batteries to burst into flames.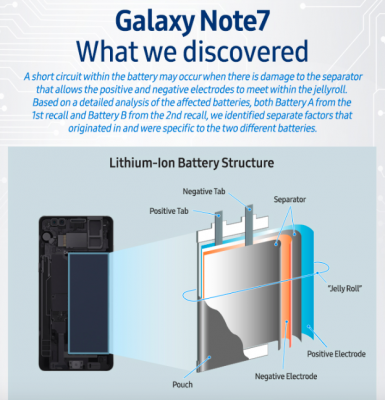 The first issue was present in the batteries manufactured by Samsung SDI. The negative electrode in the top right-hand corner was damaged and this became the reason for the company to start the first recall program.
The second problem was connected with the battery produced by Amperex Technology Ltd. In this case, the positive electrode was faulty and contacted the negative one due to damaged or missing insulation tape.
Samsung claims all problems have been identified and resolved. The company has teamed with independent industry experts and even created a special Battery Advisory Group that controls battery safety and innovation.
Samsung believes that new devices, for example, the Galaxy S8, will have safe batteries that won't explode.
[via iClarified]

Leave a comment